Tuna exports to EU grow thanks to trade deal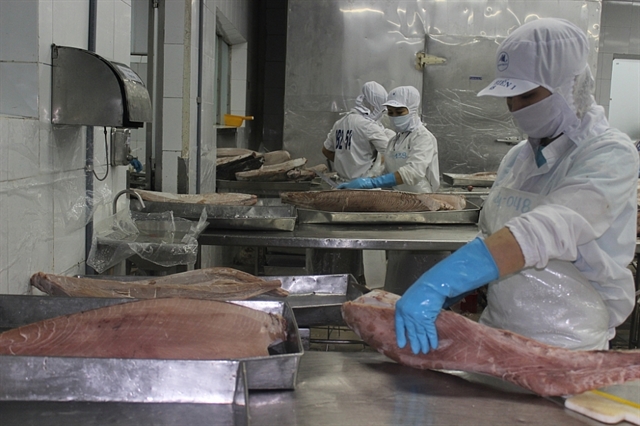 Tuna exports to the EU grew by 2.4 per cent in 2020 after recovering sharply as the Europe – Việt nam Free Trade Agreement took effect in September. – Photo haiquanonline.com.vn
HCM CITY – Việt Nam's seafood exports have benefited greatly from the Europe – Việt Nam Free Trade Agreement (EVFTA), especially that of tuna.
According to the Việt Nam Association of Seafood Exporters and Producers, tuna exports to the bloc grew by 2.4 per cent to US$136 million last year. The EVFTA took effect in August 2020, and many tariffs have been reduced to zero.
Demand for canned and frozen tuna is high in the EU also due to the pandemic.
Italy, Germany and Spain are the three largest importers in the bloc. Việt Nam's exports to Italy and Germany grew in 2020 but exports to Spain fell.
Italy, one of the largest importers of tuna in the EU, is also Việt Nam's largest buyer of fresh and frozen tuna in the bloc, with exports increasing by 9 per cent last year.
Việt Nam, Germany's fifth largest supplier of canned tuna, increased its exports to that country last year.
The EVFTA has enabled seafood exports to grow in double digits since September, helping the industry recover from the impacts of COVID-19.
Trương Đình Hòe, general secretary of the association, said seafood exports to the EU also picked up from September, and were worth $992 million for the full year.
Businesses utilised the trade deal effectively, he said.
According to the Ministry of Industry and Trade, there has been a sharp increase in the number of businesses obtaining the certification of origin to take advantage of free trade agreements.
Vietnamnews